Sign up to get the latest updates right to your inbox!
Alopecia and Hair Growth Tips & Discussions
[grid content="post" exclude_categories="85″ columns="3″ number="3″ show="image, title, excerpt, more_link"  center_mode="true"]
About Jassica Langley-Elson
In 2012, I was diagnosed with an extreme form of hair loss called Alopecia.  I was losing my hair in small, round, smooth patches on my scalp. My hair was thinning at a rapid pace and I didn't know what to do.  I prayed about my hair loss and thankfully God lead me to make an all natural mixture, that has helped to stop my hair loss and regrow my natural hair.
My hair has been growing back, slowly but surely, for the past almost 4 years.  I am proud to say that I am Alopecia Free!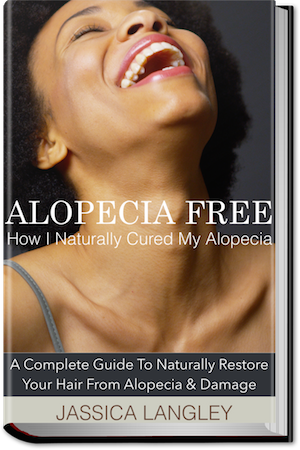 Losing your hair can be stressful, discouraging and down right depressing. In my book I encourage you on what may seem like a dead end and help to guide you along the path of hope and hair regrowth. In the book I answer questions like "I have a bald spot, what do I do?" I guide you deeper into your hair journey by helping you to find out why you are losing your hair and what to do next. I discuss what products are best for regrowing your hair and what products to stay away from and why. Discover how to build a successful hair growth regimen and so much more!
Get the eBook
Oils and butters
[grid content="post" categories="85″ columns="1″ number="1″ show="image, title, excerpt, more_link"  center_mode="true"]
[grid content="post" categories="85″ exclude_categories="153″ columns="2″ number="4″ show="image, title"  center_mode="true"]
Videos
[yourchannel user="alopeciafreewithjass" tag="hxoiz"]
Follow Us