Lavender Oil For Damaged Hair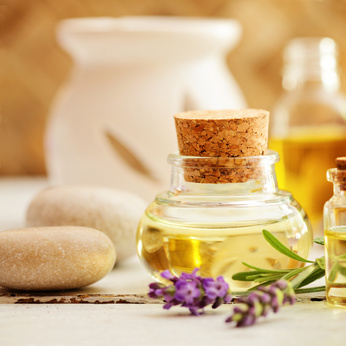 Lavender oil
is something I use for its healing, therapeutic properties and its aromatherapy (smell).  Since lavender oil is an essential oil, if it is applied directly to your scalp, it can cause irritation.  It is best used mixed in with a base oil or butter. Lavender oil is very versatile and it can be mixed with many varieties of bases, such as shampoo, conditioners, creams, lotions, etc. When it is mixed with other scalp and hair healthy products, it is ideal for promoting thick, healthy hair growth. It is great at promoting faster hair growth, due to the nutrients it provides to the scalp.
Can Lavender Oil Moisturize Your Hair?
Well to be honest it's an essential oil so its not great for moisturizing or hydrating our hair, but it is an excellent source of nutriment for our hair and scalp.  Its healing properties are great for keeping our scalp clean and free from irritating scalp conditions, such as dandruff and itchiness. It is also great at keeping Lice away because they do not like the smell of the lavender oil. Lavender Oil is a great way to keep your scalp healthy, which promotes hair growth.
Lavender Oil is Therapeutic for Hair
Lavender oil has therapeutic properties, which is essential for hair growth. When we are anxious, depressed or stressed out we are automatically have a higher chance of experiencing hair loss or hair loss related conditions.  Our psychological state plays a huge role in hair loss. When our body is under stress and pressure it does not function the way it was made to.
The therapeutic properties of Lavender Oil aromatherapy helps to relieve some of the phycological stress and helps to prevent hair loss and hair loss related conditions.  It also helps to promote blood circulation throughout the body (including the scalp), which promotes strong and healthy hair growth. When you massage your head with the all natural mixture, the lavender adds a relaxing, calming and soothing effect on your scalp.  Since it aids in relaxation, it will help you to sleep better and to minimize stress and anxiety.
Prevents Hair Loss
Lavender oil is known for being very effecting at treating hair loss hair problems and hair loss related conditions. It is helpful at controlling hair loss and improving hair growth.  This was one of the main reasons I decided to use Lavender Oil in my Alopecia Free Mixture.  It is very beneficial at helping to help various skin/scalp and hair problems. It promotes hair growth for conditions such as alopecia, so this essential oil became an essential part in my mixture.